Fake news could be a good thing for Kenyan media
Fake news is gripping Kenya ahead of the country's presidential election on Tuesday. It's not only growing in scale but also in sophistication as major publications are mimicked in order to deliver fake news stories.
Last month, the BBC was forced to apologise after an online article was designed to look like it was published by the British organisation, claiming polls indicated Uhuru Kenyatta would win this week's election.
Kenyan publications have also been doctored to include fake stories. Neighbouring Uganda has been targeted, too – including one fake story claiming former PM Raila Odinga was rushed to hospital after a viagra overdose.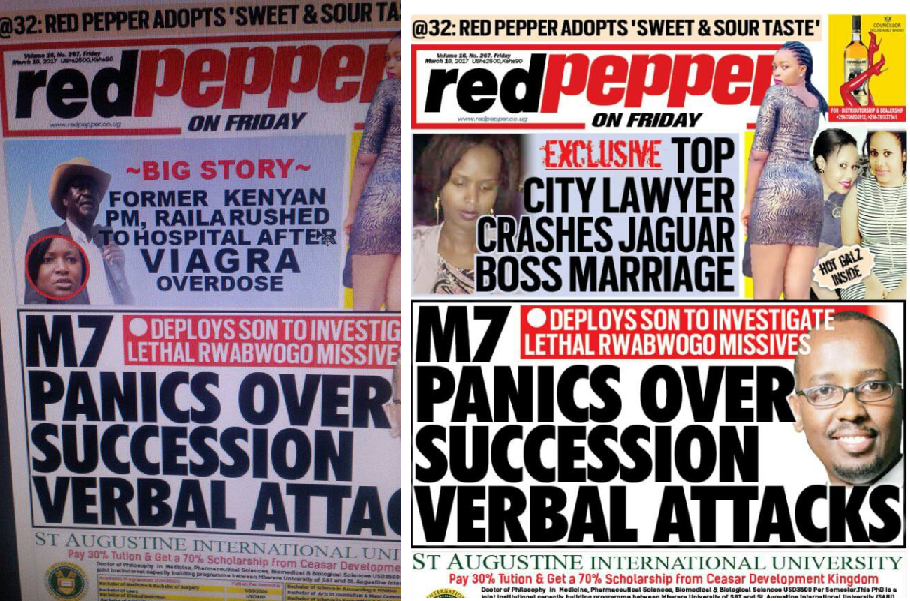 Doctored front page of the Ugandan tabloid Red Pepper on the left, the real one on the right.
Now Facebook has rolled out a tool designed to help users in Kenya spot fake news on the network, signalling a global effort to tackle the issue in the East African nation. All of which highlights the severity of the situation in Kenya ahead of the presidential polls – and this could be a good thing for Kenyan media.
The scale of the situation
The scale of the fake news problem in Kenya is huge. Social media is the trickiest ground to deal with, hence Facebook's own effort to help Kenyan users spot and report fake news stories on the network.
A recent study by Portland and GeoPoll reveals 90% of respondents have seen fake news stories surrounding the 2017 election.
Fake news is nothing new but the phenomenon rose to prominence during the 2016 US presidential elections. Now the practice has become an obvious tactic in the build up to elections and its effectiveness is hard to dispute – that is, until people learn to spot fake stories.
Dealing with the problem
Kenya isn't fighting this battle alone; it's one the global media institutions need to tackle. There is good news for the established news outlets though. Surveys also find that people fall back to trusted sources as the awareness of fake news increases. However, this doesn't improve things for audiences at the consumer level.
Media organisations need to work harder to prove their authenticity – something they can't afford to neglect any longer. Which means Kenyan media outlets need to clean up their act in every way possible to earn the trust of readers and viewers. The same thing goes for new organisations around the world.
For now, Kenya's priority is holding a peaceful and transparent election on Tuesday and maintaining peace after the result.